We pay instant money within the hour for your clunker and provide free towing removal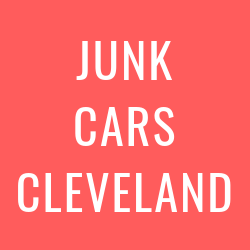 Getting rid of your beat-up vehicle for good money can sometimes be easier said than done. You can quite literally spin your wheels using online services like Craigslist, eBay Motors, and other classified services. And you probably won't get in return an amount of cash that will make you happy.
Instead, turn to a local-owned, licensed and reputable junk car and truck removal service in Cleveland and Cuyahoga County, Ohio. We pay top dollar for scrap cars and auto parts. Plus, we deliver free removal service within the hour. You may not even need the keys or title.
Getting started is easy. Simply give us a call or complete the form on this webpage to sell your car. After you give us the details, we'll get back to you with an estimate and arrange for pick up. We provide free towing to the junkyard.
Done and done! Your clunker is gone and you have cold hard cash in your pockets to use at Jack Casino, buy Browns tickets, or deposit in your KeyBank savings account.
The only junkers we won't buy are old LeBron James Cavaliers jerseys. Please burn those and contact us today to get a free quote for your junk car or truck.
How much can you sell your car for?
Why do we want junk cars so bad? The most basic answer is they're valuable. It doesn't matter if the vehicle runs or if it's been sitting under the old oak tree in your backyard collecting dust for years.
Obviously, the better shape your ride is in, the more you'll get for it. We've paid upwards of $10,000 for some cars that still run.
How much is your vehicle worth? It's hard to say for sure without knowing the make, model, year or condition, but the following can be used as a rough guide:
Complete clunker (like the Browns pre-Baker Mayfield). If it doesn't run and the parts are garbage, too, expect somewhere between $50 and $250 in return. The payout is based on size and weight of the metal.
Clunker with a good interior. If the auto parts can be stripped out and salvaged, you can expect $200 or more.
Used car that still runs. Believe it or not, we don't only buy wrecked cars. We pay fair market value for used cars – thousands of dollars for those in good shape.
We buy cars for scraps and parts ... with or without the title
Interested in selling your scrap car and its parts? We suggest calling a junk car buyer near you. You can choose a franchise service that isn't local like Junk Car Boys, Junk Car Medics, Junk Car Zone, and the like. Or you can choose an area business that pays top dollar.
That's us! And this what you have to do in four simple steps:
Give us a call 24 hours a day – even on weekends and holidays – or fill out the online form on this page.
Provide all the details about your car, like make, year, model, and condition.
Accept our fully guaranteed cash offer.
Arrange for pick up or count on us free towing removal service.
Although we may not need a title to pay for and tow away your scrap vehicle, it helps prove that you are the owner. In place of the title, we require personal identification that matches a valid vehicle registration.
In some cases, additional paperwork may be needed. In rare instances, you may need to obtain a replacement title. We cannot pay for abandoned vehicles.
Call us any time for more information about our auto salvage business at the phone number below.
Choose our money for cars and trucks 24-hour buying and removal service
Being in the tow truck and junk car buying business for more than two decades in Cleveland, we realize that you have options when it comes to scrap vehicles for cash services. A few of our competitors even have solid reviews on Yelp, Facebook, and Google.
We don't like to brag often, but they don't match up to our industry-leading operation. Consider choosing us for your junk car needs for the following reasons:
We pay top dollar. Sell your trashed car to us and you'll get instant cash that (in most cases) exceeds its value and worth.
We're fast. No waiting in line to sell your garbage car and have it towed away. We pay you and are gone within the hour. Better yet, we work 24/7.
We don't always need a title or even the keys. Your car doesn't have to be running either. As long as you can prove ownership, we will buy your junker.
We're fully licensed and insured. No shady under-the-table operation here.
We're local and experienced. We're hard working, blue-collar Ohio folks just like you.
Get in touch with us now for a free junk car buying and removal quote. If you ever forget how to find us, simply type "junk cars for cash near me" or "best junk car service in Cleveland" into a Google search.
You can also fill out the form on this page to get started on selling your car online.
While our home base is in the heart of downtown Cleveland, we travel throughout Cuyahoga County to do work. Our service area includes:
Parma
Lakewood
Euclid
Cleveland Heights
Mayfield Heights
Brecksville
Independence
Strongsville
Beachwood
Shaker Heights
Westlake
Brooklyn
North Olmstead
Solon
Chagrin Falls
Maple Heights
East Cleveland
Cuyahoga Heights
Linndale
Garfield Heights
Brooklyn Heights